Silversmith: 40 years of fascination with an old craft
The charm of the noble metals silver and gold runs through almost the entire history of man.
It was these two elements that were rare on the one hand, but in a solid form and thus represented the first possibility of working with metal. All other metals such as copper, tin, zinc and iron first had to be extracted from their ores. A technology that was not yet available at the beginning.
Silver is beautiful.
No other metal has such a pure white color as silver and has a warm glow similar to that of this precious metal. On the one hand it is so soft that it can be shaped well cold, but on the other hand it is so firm that it can be used to make beautiful everyday objects. It can be soldered well and cast at relatively low temperatures.


The silversmith
Even though the techniques are ancient, the silversmith profession is relatively young. Throughout history, it was reserved for the rich and powerful to have objects made of precious metal. In the Middle Ages, only the nobility and clergy were allowed to own objects made of gold or silver. Jewelry and equipment were made by goldsmiths. Only with the strengthening of the civic society did the need for silver goods become so great that specialization took place and the silversmith has separated from the goldsmith.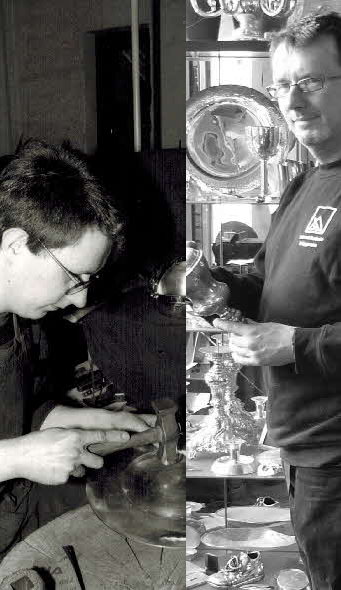 My vita:
After my apprenticeship at the Domgoldschmiede zu Meldorf, which I completed in 1985 with the journeyman's examination in front of the HWK Hildesheim, I worked for a total of 8 years in various silverware manufacturers. I would especially like to mention the companies
- Johann Franz Jr.
- Deyhle brothers
- Robbe & Berking
In 1992 I passed the master craftsman's examination in silversmithing in front of the HWK Würzburg.

27 years ago, as a silversmith, I opened my master workshop in the center of Lüneburg in the back yard of a small side street.
Here I deal with the production of new silverware as well as the repair and restoration of these beautiful things. After 40 years, I am still fascinated by the opportunities and challenges of this profession every day.